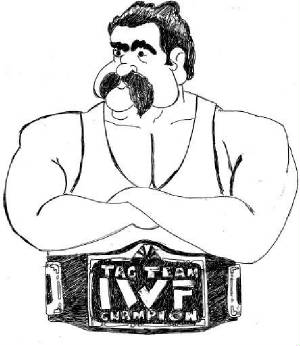 Hometown: Originally from the Rocky Mountains, now making his home in Brownsville, Texas
Wt: 295 Lbs.
Titles held: IWF World Tag Team Titles (4) w/ "Exciting" Eddie Perez, R. Bruce Tharpe and The Colonel; IWF Heavyweight Championship
Notable Feud(s): Halcon de Oro, Jacob Ladder and R. Bruce Tharpe
If the IWF would ever write a book or make a documentary of its history, this man would certainly have a chapter written for him or a chapter filmed about his accomplishments in the IWF.
The IWF Hardcore Icon has done in it, being only one of 2 men in IWF history to be both IWF Heavyweight Champion and IWF Tag Team Champion. But with success come great sacrifices.
R. Bruce Tharpe and Tyler were best friends, always having each other's back. But that all changed in December of 2004 at IWF Vengeance when, in a chain match for the tag titles, Avalanche Tyler aligned himself with the South African Assassin The Colonel. By the end of the night, The Colonel and Av Tyler were IWF tag team champions and RBT was out of wrestling in the ring for a year.